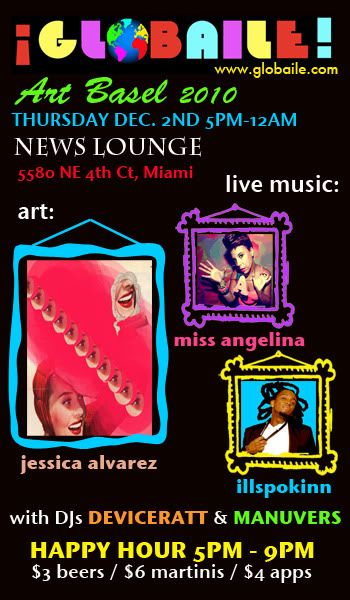 Tonight is the night! Come join us for an evening celebrating multicultural flavor in the art world at one of Miami's sexiest venues! Enjoy an outdoor art installation, live music, DJs and amazing happy hour drink and appetizer specials!
And we're filming everything to live for
www.globaile.com
- so make sure to bring your friends and make your appearance in our video feature!
THURSDAY, DECEMBER 2nd. 5PM - 12AM at the
NEWS LOUNGE
FEATURED ARTIST:
Jessica Alvarez
LIVE MUSIC:
5:00pm -
DeviceRATT
7:00pm -
Illspokinn
8:00pm -
Miss Angelina
9:30pm -
DJ Manuvers
HAPPY HOUR:
5:00pm to 9:00pm - $3 beers / $6 martinis / $4 apps